In this issue — October 15, 2020
Cyber Command, Microsoft Take Action Against Trickbot Botnet Before Election Day
Singapore Man Gets Prison; Spied for China in the U.S.
Why Are Some Employees More Likely to Comply with Infosec Policies Than Others?
U.S. Unveils Enforcement Framework to Combat Terrorist Cryptocurrency Activity
DoD Publishes Long-Anticipated Data Strategy
Takedown of 92 Iran-Owned Domains Includes 4 Used for Disinformation in U.S.
DHS: Russia Poses Greatest Threat to Election
DOJ Charges British Islamic State Terrorists in Gruesome Beheadings
NATO Chief Calls for New Strategy on Cyber, China
Report: Workforce Changes Needed to Make IC More Agile
---
Cyber Command, Microsoft Take Action Against Trickbot Botnet Before Election Day (Cyber Scoop, 10/12/20)
The Pentagon's offensive hacking arm, Cyber Command, has carried out an operation to hinder the ability of TrickBot, one of the world's largest botnets, from attacking American targets.  Microsoft also has sought to disrupt TrickBot, according to Tom Burt, the company's corporate vice president of customer security and trust.
The two operations represented distinct efforts to interrupt a pernicious threat that U.S. government officials say could be used to launch ransomware attacks against IT systems that support the voting process ahead of Election Day.  Such an attack against voter registration systems, for instance, could result in confusion, delays or other uncertainties when Americans cast their ballots.  As a result of the Microsoft operation, the people behind the TrickBot botnet — a collection of compromised zombie computers controlled by Russian-speaking attackers — will be limited in their ability to infect new victims and activate ransomware they may have been preparing to deploy against targets. More
---
******************************************************************************************
ADVERTISERS: For information about sponsoring this e-letter, contact sburns@nsi.org or call
508-533-9099.


National Security Institute
165 Main Street, Suite 215
Medway, MA 02053
Tel: 508-533-9099
Fax: 508-507-3631
Internet: http://nsi.org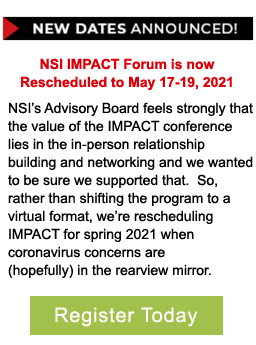 *****************************
Help Your Employees Become Cyber Aware
Experts agree, well intentioned but careless employees pose just as much of a danger to your organization as faceless hackers on the outside. In fact, 95 percent of successful hack attacks or incidents are attributed to human error.


Learn how to mitigate the accidental insider threat and empower your employees to think securely with these valuable lessons:
How to recognize and respond to social engineering attacks
How to avoid spear-phishing and email scams
How avoid becoming an easy target for hackers
How to prevent human errors that cause security breaches
How to protect sensitive data from hackers, spies and ID thieves