National Security Forum & Expo
Perfect Mix of Executive Briefings and Insightful Workshops
Designed for Security Leaders at Defense Contractors
and Government Agencies
APRIL 25-27 / Westfields Marriott
Chantilly, VA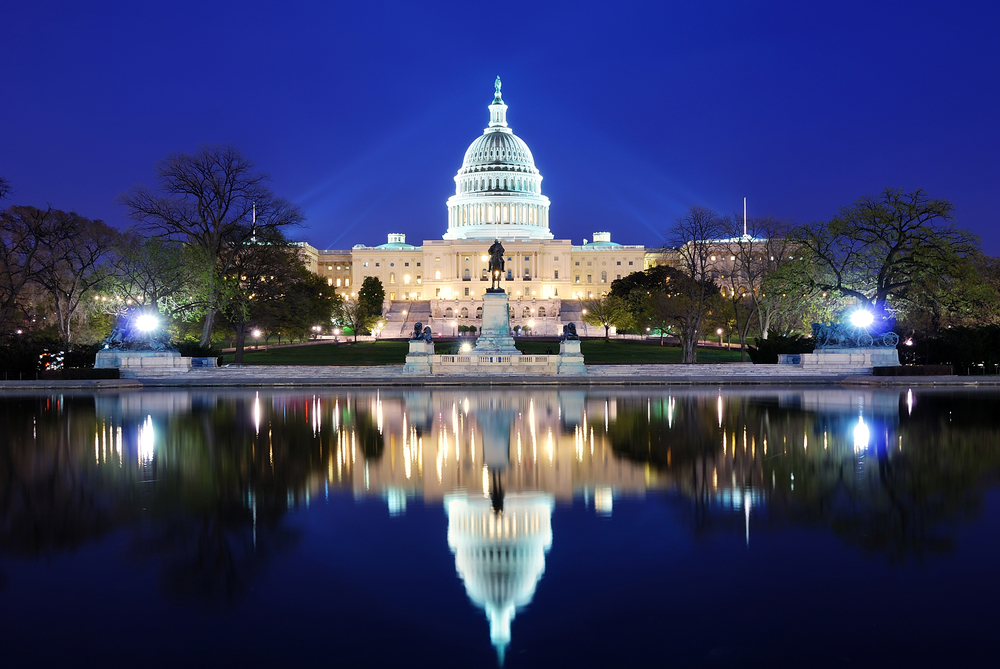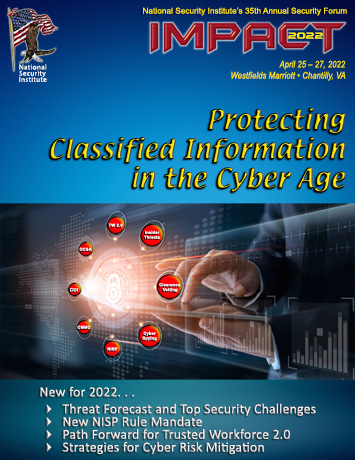 Use this pdf to share with your manager and colleagues for discussion and to secure approval. Click Image to Download.
You'll Learn from an Impressive Lineup of Great Speakers
"NSI's Impact seminar is the perfect security forum for security professionals. It does not matter if you're industry or government; junior, mid-level or C suite. Their speakers are always first-class presenters." - Lucas Bosch, Telephonics Corporation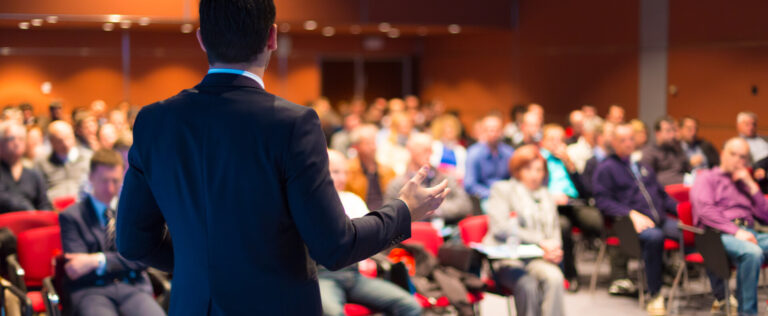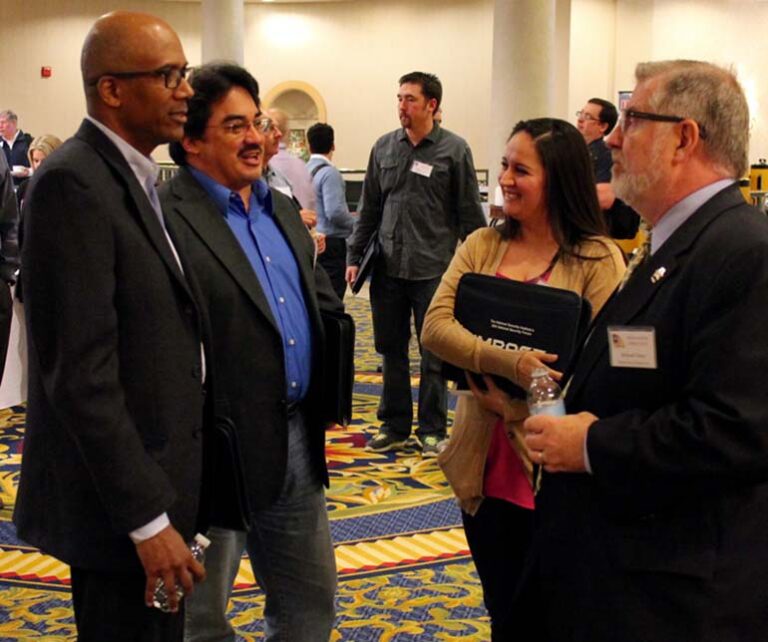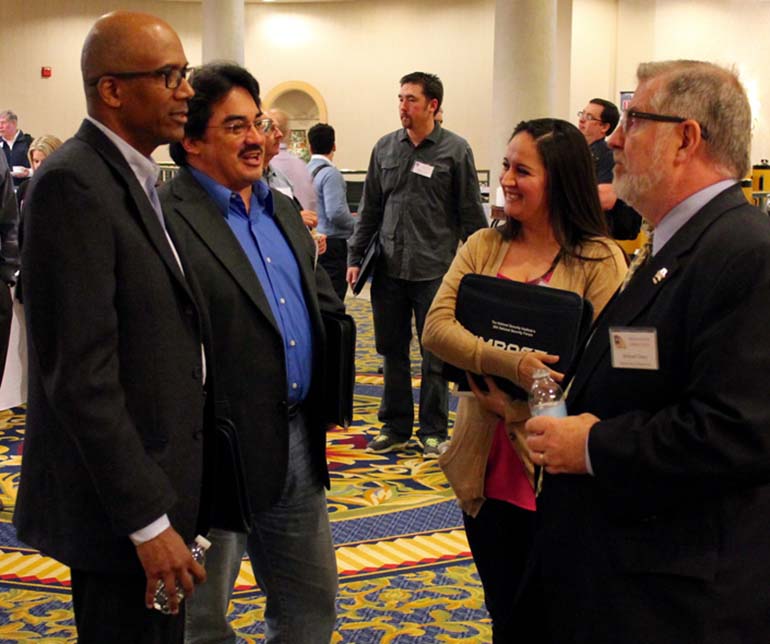 "Knowledgeable and passionate presenters. Great case studies which made the topics more 'real' and useful."
- Ellen Bertuccelli, Northrop Grumman
Government Security Leaders 
IMPACT brings to you high ranking government officials in the FBI, DoD, NSA, DHS, NCSC and more to provide briefings on the security threats you need to understand to be a security leader in your organization. 
Government Compliance Agencies & Partners 
Plus we connect you with the the officials who lead policy development and deliver guidance to help you stay in compliance and execute a smooth security program.
Expert Industry Security Practitioners
Not only that, IMPACT brings you industry leading security practitioners who share their expertise, case studies, techniques and resources you can apply to your program immediately. You're guaranteed to be engaged with our speakers and their content from start to finish.
"The speakers were excellent and really conveyed their knowledge effectively. Great topics with just the right amount of time for each. Can't wait till next year!" - Kelly Batchelder-Long, FBI
Gain Understanding of Global Security Threats
"Excellent topics, very relevant and current. Speakers were very knowledgeable and provided a great deal of insight." - Joanne Louketis, Lockheed Martin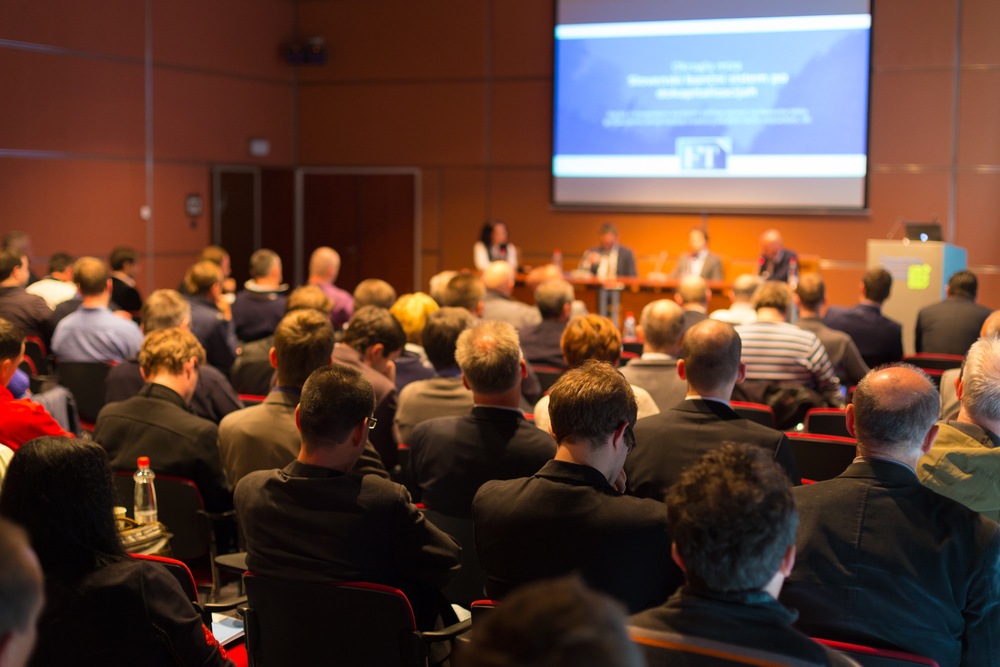 "Extremely powerful from start to finish. The NSI Impact security forum runs like a well oiled machine. Always on schedule and presents extremely relevant topics that inspire security professionals." - Paula Fridell, Boeing
Leaders Need to Understand the Threats
To be a security leader in your organization you have to constantly develop your understanding of the security threats facing the U.S. here and abroad.
At IMPACT you'll receive briefings on today's evolving security threats. You'll come away with a strong understanding of the security landscape required to defend against all threat vectors – cyber, insiders, espionage, terrorism, physical and emerging.
Get a Diversity of Perspectives
Experts from multiple government agencies bring you a holistic and diverse perspective that will develop you as a security leader. You'll absorb knowledge from diverse sources which will allow you to develop your own expertise.
Take Away Practical Guidance for Your Program
"Impact never disappoints and keeps me coming back every year. Best security conference around."
- Kari Nacy, IEA Corporation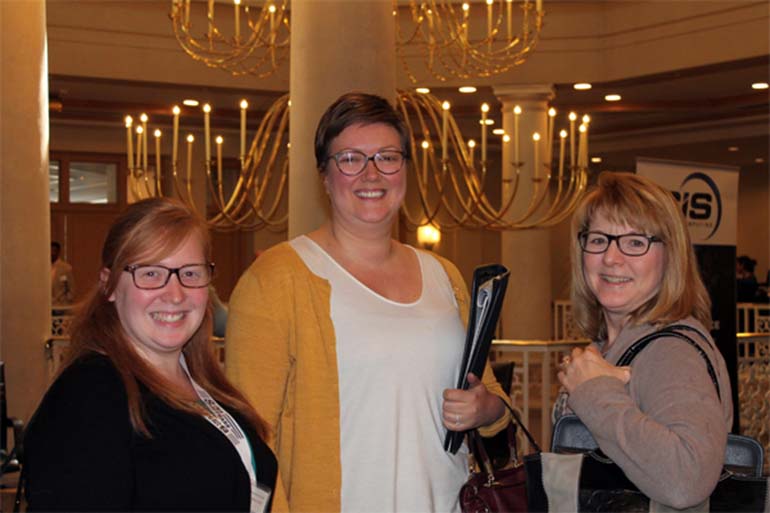 "I've attended them all — Impact is by far the best! Best speakers, best topics, best organization. I like the smaller, more accessible networking environment! "- Linda Ramsey, BAE Systems
Workshops Led by Expert Industry Security Practitioners
Add best practices and new techniques to your arsenal with lessons learned, case studies and step by step program building advice from experts in the field. Take home practical resources, new ideas and fresh approaches that will make your security program stronger than ever. 
Workshops Led by Government Compliance Agencies & Partners
Everyone wants a smooth running program that hits all the marks. Hear directly from the folks responsible to partner with you to ensure a compliant security program. Learn what you should expect in the months ahead. Take the opportunity to get your questions answered, share your concerns and voice your opinions.
Networking Opportunities You Won't Find Elsewhere
"As always great seminar. My third consecutive attendance. Speakers were awesome and networking very successful."- David Cummings, Harris Corporation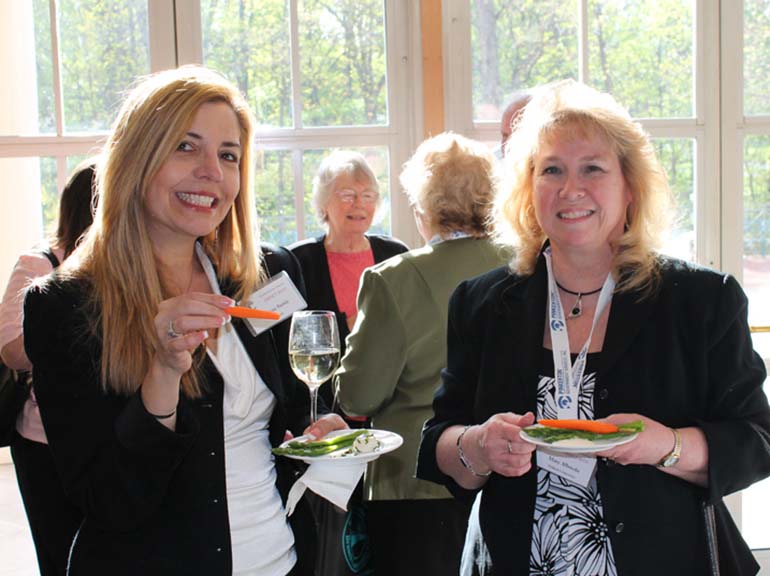 A Diversity of Expert Security Leadership Perspectives
IMPACT brings in the best speakers and leading edge security thinkers from multiple agencies, military services and contractors. For those in the government it's a chance to expand your knowledge and learn from leaders in other agencies. For the those in the private sector it's an opportunity to hear from and interact with leadership from key government agencies and leading-edge defense industry security pros.
Meet, Mix & Mingle With Security Colleagues from Industry, Government and Military 
IMPACT has been bringing together security professionals from all across the U.S. defense industry ecosystem for over 35 years. You'll interact and learn from colleagues on the commercial side and within every government agency and military branch. 
There is nothing else like the impressive cross-section of defense industry security experts, leaders and practitioners you'll engage with at IMPACT.
"Very good information and great networking opportunity."
- Sean Wells, U.S. Army
"This conference met all my needs. Several speakers provided eye opening information. I'm looking forward to attending again next year." -Jeffrey Jones, Rockwell Collins
"Outstanding! Kudos to all presenters and staff. The materials distributed will be very beneficial in enhancing my organization's security program." - Karen Wilkins, Booz Allen Hamilton
Security Tech & Services Expo 
Over the years attendees have told us they would like the opportunity to connect with vendors in the more intimate atmosphere that IMPACT provides. So we added a 1-day expo where security vendors and service providers serving defense industry and government agencies can come to answer your questions and share their approach to making you successful in a very demanding and ever changing security environment.
Security Awareness Fair
A perennial favorite, the IMPACT security awareness fair brings the major government security agencies to IMPACT offering a broad array of complimentary materials and media through their security outreach programs. Take advantage of these terrific resources.
2022 Edition of NSI's Reference Library
Curated by the National Security Institute, every IMPACT '22 registrant receives access to the most comprehensive library of security articles, white papers, checklists, glossaries, reports, surveys, and primary source documents. When you need to write policies, prepare reports, plan strategy, forecast trends, or justify procedures you'll appreciate having all this information organized and at your fingertips.
"I enjoy attending the Impact seminar each year. Presenters, material and venue was excellent! I always take back good information to my organization each year. I'm looking forward to attending next year."- Pam Spilman, SAIC
Secure Your Seat at IMPACT Today
Organizations That Attend NSI's IMPACT
A
ACF Technologies
Acorn Science & Innovation
ActOne Group of Companies
ADDX
ADS
Advanced Onion
Advanced Product Transitions
Advantage SCI
Aerospace Corporation
AECOM
Aegis Technologies Group
AEM Corporation
Aerojet Rocketdyne
AETC
AFC
Agile Defense
Air Center Helicopters
Air Force Research Institute
Air Mobility Command
Airbus Defense and Space
AKAMAI Technologies
Alban Tractor Co
Alion Science and Technology Corp
AllCom Global Services
Allied Associates International
Altamira
American Systems
AMPS
Anduril Industries
Anniston Army Depot
ANSER
ANVIL Systems Group
Applied Engineering Management 
Applied Fundamentals Consulting
Applied Information Sciences
Applied Physics Laboratory
Applied Research Laboratories
Architect of the Capitol
ARCTEC Alaska JV
Arete Associates
ARIES Systems International
Arkansas Air National Guard
Artis, LLC
Association of American Railroads
Assurance Technology Corporation
AT&T
ATF
ATI Specialty Alloys and Components
Auburn University
Aurora Flight Sciences
AVENGE
AVIAN, Inc.
Avnet Government Solutions
Axios Technologies
B
B.L. Harbert International
B3GLOBALCON
BAE Systems
Ball Aerospace
Banneker Industries
Basis Technology
BATF&E
Bath Iron Works
Battelle
Battlespace, Inc.
BBN Technologies
BC Consulting
BCANetwork
BCI
BCT 
Bechtel Marine Propulsion Corp
Bechtel Plant Machinery, Inc.
Bevilacqua Research Corporation
Big Sky Associates
Blue Cross and Blue Shield of Louisiana
BMC Software Federal
BMPC
BNL
Board of Governors, Federal Reserve
Boeing
Booz Allen Hamilton
Bureau of Environmental Enforcement
Bushido Associates
BWX Technologies
C
CACI
Caesar Creek Software
CALIBRE
Canadian Armed Forces
Carnegie Mellon University 
Caterpillar 
CCDC Data and Analysis Center
CDC
CDSE
CDW Government
CECOM ILSC
CENTECH Group
Center for Army Analysis
Center for Development of Security Excellence
Centers for Medicare & Medicaid Services
CenturyLink
CGI Federal
Charles River Analytics
Chemring Sensors & Electronic Systems 
Chenega Corporation
Clark Construction Group
ClearanceJobs
Cleared Solutions
CMS
CNA
Coleman Group,
Collins Aerospace
COMNAVAIRLANT
Compass
Computer Systems Center 
Computing Technologies
Comtech EF Data
Communications Electronic Command
Conti Federal Services
Corvid Technologies
Cotton & Company
Counter Explosive Hazards Center
Creative Information Technology 
CSCI
CSES
CSI
CTSI
Curtiss-Wright
D
Dae Sung
Dalcom Engineering
DARPA
DCSA
Deep Learning Analytics
Defense Advanced Research Projects Agency
Defense Intelligence Agency
Defense Office of Hearings and Appeals
DEFTEC Corporation
Delex Systems
Deloitte
Dept of Defense
Defense Intelligence Agency
Dept of Energy
Dept of Homeland Security
Dept of Justice
Dept of Justice/FBI
Dept of Justice/DEA
Dept Justice/Security Division
DOJ/SEPS/PERSG
Dept of Labor /OASAM 
Dept of State
Dept of the Army
Dept of the Army – Fort McCoy
Dept of the Army, G-3 Special Operations Div
Dept of the Interior
Dept of the Treasury
Dept of the Navy
Dept of the Air Force
DigiFlight, Inc.
Digital Reasoning
DISA Global Field Command
DITMAC
DNFSB
DoD CECOM
DoD Consolidated Adjudication Facility
DoD, Office of Inspector General
DoD/DARPA
DOHA
DOI – BSEE
DSS/CDSE
DTRA
Dynamic Aviation
E
E.K. Fox
Eastman Chemical Company
EBL Engineers
Elbit Systems of America
Electric Boat Corp
Electrico
EMC Corporation
Engility
ENSCO Avionics
Envisioneering, IncEPS Corporation
Equifax Government Services
Espy Corporation
Esri
Evaltek 
Excet
Excivity
Expert FSO
ExxonMobil
F
FAAC Incorporated
Fairbanks Morse
Falken Industries
Favor TechConsulting
FDA/OIMT/ISS
Federal Aviation Administration
Federal Bureau of Investigation
Federal Energy Regulatory Commission
Federal Housing Finance Agency
Federal Network Systems
Federal Protective Service
Federal Reserve Bank of NY
Federal Reserve Board
Federal Trade Commission
Fibertek
Fluor Federal Petroleum Operations
FOCI Outside Director
Foreign Language Services Simulation
FORSCOM G2
Fulcrum IT Services
G
Gannett Fleming
GDIT
General Dynamics
General Dynamics Bath Iron Works
General Dynamics Electric Boat
General Dynamics Land Systems
General Dynamics Mission Systems
General Services Administration
Gensler
George J. Kostas Research Institute
Georgia Tech Research Institute
GKN Aerospace
Government Secure Solutions CGI Inc
GSA
H
Harris Corporation
Haystax Technology
HEBCO
Henry M Jackson Foundation
Hexagon US Federal
HHS
HLM Associates, LLC
Honeywell
HPE
HPE Federal Security
HPI Federal LLC
HQ AETC/A2OS
HQ Air Mobility Command
HQ AMC/A10N
HQ R&D and Engineering Command
HQDA OACSIM
HQDAG3 Special Ops.
Hughes Network Systems
Human Resources Research Org
Huntington Ingalls Industries
Ian Evan Alexander
I
IBM
ICF Consulting Group
IDA
IDA/CCRL
Idaho National Lab
Ideal Innovations, Inc.
IERUS Technologies, Inc.
IMTAS
InCadence Strategic Solutions
Infinity Systems Engineering
InfoReliance
Inmarsat Government
Innovative Management & Technology Approaches
Institute for Defense Analyses
Integrity Applications
IntelliDyne
Intertek Laboratories
Iridium Satellite
Iron Bow Technologies
ISHPI Information Technologies
Island Creek Associates
iWorks Corporation
J
Jacobs Engineering Group
Javelin Joint Venture/Raytheon
Johns Hopkins – Applied Physics Lab
JPI
Juniper Networks
K
Kalijarvi, Chuzi, Newman & Fitch
Kaman Precision Products
Kansas State University
KBM Enterprises
KBR
KCCT Architects
Kegman
Kelly Services
Kenific Group
Keysight Technologies
KeyW Corp
Kforce Inc
Kinetics, Inc.
Kitty Hawk Technologies
Kitware
Klas Telecom Government
Koniag Government Services
KPMG
Kratos Defense


L
L3 Advanced Programs
L3 Flight International
L3 Harris TechnologiesLawrence Livermore National Lab
Leidos
LexisNexis Special Services
LGS Innovations
Linquest Corporation
Lockheed Martin
Lockheed Martin Aeronautics
Lockheed Martin Corporate HQ
Lockheed Martin Logistic Services, Inc.
Lockheed Martin RMS
Lockheed Martin Space
Lockheed Martin SSC
LogiCore Corporation
LongView International Technology Solutions
LTM 
LTS
M
Macro Solutions
Maersk Line
MAG Aerospace
ManpowerGroup Public Sector
ManTech
Mark G. Anderson Consultants
MarkLogic Corporation
Marotta Controls
Marzen Group
Mass. Electric Construction Co.
Matrix Research
Matthews Group
Mayvin Consulting Group
Mayvin
McKinsey & Company
MCRD ERR
Mercer Transportation Co.
Metronome 
MetroStar Systems
MGAC
MHM Innovations
Michael Baker International
Millennium Corporation
Ministry of Defence
Mirion Technologies (IST) Corporation
Mister Kleen Maintenance 
MIT Lincoln Laboratory
MITRE Corp
Moog 
Motorola Solutions
MSM Security Services
MTSI
MVM
N
NAL Research Corporation
NARA
National Academies of Sciences, Engineering
National Archives
National Background Investigations Bureau
National Credit Union Administration
National Geospatial Intelligence Agency
Naval Medical Logistics Command
Naval Special Warfare Command
NAVIOCOM Whidbey Island
NAWC WD
NAWCWD
NBIB
NDI Engineering Company
NEANY
NETSAFA
Newport News Shipbuilding
Next Century Corp.
NGA
nLogic (Boeing)
Noblis
Northrop Grumman
Northrop Grumman Defense Systems
Northrop Grumman Innovation Systems
Northrop Grumman Mission Systems
Northrop Grumman, Aerospace Systems
NSM WDC
NSWC Crane Division
NSWC-PCD
NT Concepts
NV5
O
OAA, Directorate Mission Assurance
OAA/SSD
OACSIM MSD
Oak Ridge National Lab/ U.T. Battelle
Office of Naval Intelligence
ONI/U.S. Navy
OnPoint Consulting
OPM/NBIB
Orbis Operations 
OSD/AT&L
Oshkosh Corporation
Oshkosh Defense
Overlook Systems Technologies
Owens Corning
P
P E Systems, Inc.
PA Aerospace & Defense
PAE
PAE ISR
PAE/DHS
PAL Technologies
Parker Tide / BSEE
Patrona Corporation
PE Systems, Inc.
Penobscot Bay Media 
PERSEC Services
PerSecPros
Personnel Security Professionals
Perspecta Engineering
PESystems, Inc.
Pherson Associates
PlanetRisk
Planned Systems International
Plexis Services
Plexus Corp.
PNNL
Polar Star Consulting
Polaris Alpha
Powertek Corporation
PricewaterhouseCoopers
Privacy & Civil Liberties Oversight Board
Procon Consulting
ProSol Associates
Public Health Agency of Canada
Public Health Institute
Purdue University
PwC Public Sector
Q
QTS
QTS Federal
Quality Support
Quest Software Public Sector
R
Radio Reconnaissance Technologies
Radix MetasystemsRAND Corporation
Rapid Response MonitoringRaytheon
Raytheon – IIS
Raytheon Applied Signal Technology
Raytheon AST
Raytheon BBN Technologies
Raytheon Missile Systems
RDM Engineering
Reallaer
Red River Technology 
Richard S Carson & Associates
Rockwell Collins
Rosendin Electric
RPI Group
RSI
S
SAFE Inc.
SafeNet Assured Technologies
SAIC
Sandia National Laboratories
Satcom Direct
SC&A, Inc.
Scaled Composites
Schafer
Schweitzer Engineering Laboratories
Science and Technology Corp.
SCIS
SCRA
SDA
SDNG
Seagate Federal
Seagate Government Solutions
Sechan Electronics
Securitas Critical Infrastructure Services
Security Walls
SES Government Solutions
Sev1tech 
SHINE Systems
ShorePoint
Simulyze
SimVentions 
Six3/CACI
SMC/IN
Software Engineering Carnegie Mellon
Sonalysts
SOS International
Sotera Defense Solutions 
South Dakota National Guard
Southern California Edison
SP Global
SpaceX
Spartan Management
SPAWAR
Spear Research
Spirent Federal Systems
Squadron Defense Group
SRC
SSC-PAC
SSO Navy
System High Corporation / DARPA
Systematic
Systems Development and Analysis
Systems Engineering
Systems Planning and Analysis
T
T-Kartor USA
TACOM
Tailored Solutions and Consulting
Tau Technologies
TCAA-USA
TE SubCom
Technica Corporation
Teleconsultant
Teledyne Scientific & Imaging
Telephonics
Tetracore
Texstars
Thomson Reuters Special Services
TIO
TMG Construction
TransUnion
TRAX International/TSSC
Trident Systems
Trinity Technology Group
Trisept Corporation
Trowbridge & Trowbridge
TRSS
TrueTandem
Trustwave Government Solutions 
TSC Advantage
TSCM Security Services
University of Alabama
Electronics Subsea Communications 
U
URS Federal Services
U.S. Agency for International Development
U.S. Air Force
U.S. Army
U.S. Army Garrison Stuttgart
U.S. Army Material Systems 
U.S. COAST GUARD
U.S. Department of the Interior
U.S. Dept of Defense
U.S. Defense Intelligence Agency
U.S. Dept of Energy
U.S. Dept of Homeland Security
U.S. Dept of Justice
U.S. Dept of Justice/FBI
U.S. Dept of Justice/DEA
U.S. Dept Justice/Security Division 
U.S. Navy
U.S. Navy – NSWC
U.S. Nuclear Regulatory Commission
U.S. Postal Service
U.S. Secret Service
U.S. Special Ops Command
U.S. Treasury
Ultra Electronics – USSI
Ultra Electronics Ocean Systems
Unisys
United States Military Academy
University of Alabama at Huntsville
University of Michigan
URS FS
URS/AECOM
U.S. Army Edgewood Chemical Biological Center
U.S. Army Forces Command
U.S. Army Medical Dept 
U.S. Army Military District of Washington
USAF / 388th FW
USAF 5th Ops Group
USAF Air Mobility Command
USAF Civilian
USAFMSA
USAFRICOM
USAFRICOM/J2 SSO
USAG Fort McCoy
USAG Italy DPTMS (S2)
USARAF/ G2
USG
USINDOPACOM
USPACOM JIOC
USSOCOM
USSS
USU Research Foundation
UT-Battelle, Oak Ridge National Laboratory
V
Vectra Co
Vencore
Veritas Technologies
Verizon
Versability Resources
Vertex Aerospace Flight International
ViaSat, Inc.
VRL
VT Halter Marine
VT Milcom Inc.
Vulnerability Research Labs
W
Weston Solution
WilmerHale
Woolpert
X
X Technologies
Xcelerate Solutions
Z
Zeiders Enterprises
Zenetex
Zimmerman Associates